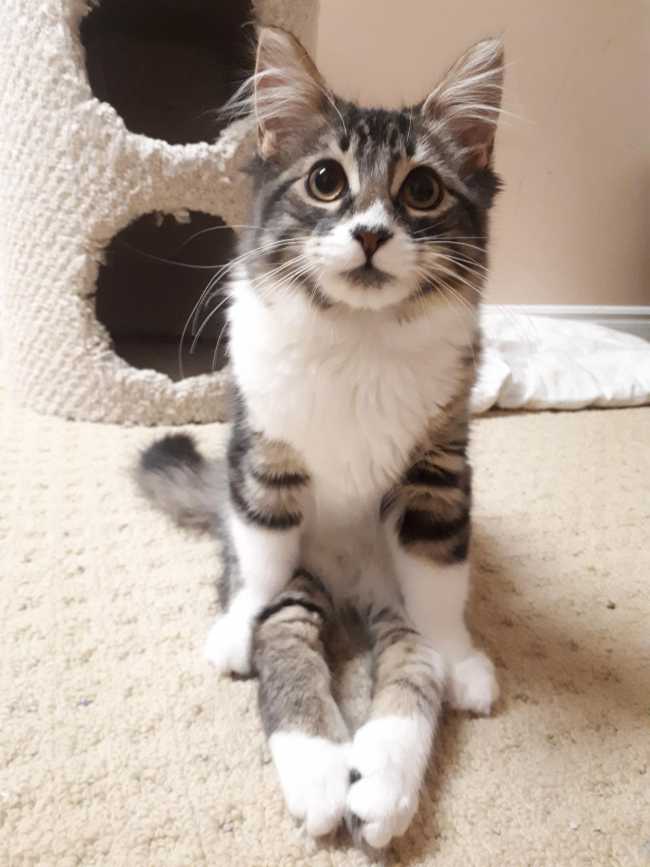 Pet Details

| | |
| --- | --- |
| Type: | Cat |
| Breed: | Domestic Short-Hair |
| Gender: | Female |
| Age: | Young |
| Size: | Medium |
| Colour: | Grey |
| Personality: | Friendly |
| Kids Friendly: | No |
| House Trained: | Yes |
| Declawed: | No |
| Special Needs: | Yes |
Sena's Story
Sena arrived to us from a high-intake shelter in Quebec after being surrendered at 8 wks old. She has a congenital deformity in her hind legs where she has no hips, her bones are created backwards, they lack proper curve, her knees are displaced, and has very slight muscle mass back there making her back legs straight 24/7 and unable to bend.

She gets around all by her front half, lifting herself around, dragging herself and sometimes even walks funny on the legs. She knows no different and thinks she is just like any other kitten; she rough houses, cuddles, pulls herself up onto things.  She will never get around like a normal cat and will always have limited ability on those hind legs but she will always know no different in life. She is currently going through rehab to hopefully build her partial muscle to sustain her weight. 
​
Once Sena has completed her medical and rehab regime, she will become available for adoption so stay tuned - check out our FB site for ongoing Sena updates!
Sena has Special Needs!
Congenital deformity in her hind legs - see Pet's Story section for details. Currently going thru rehab - watch our FB site for ongoing updates on her progress and for a video of how she gets around - will become adoptable when rehab is completed.
This pet's profile is submitted and maintained by Dog Speed Animal Rescue & Transport Society; Adoptico.com does not guarantee accuracy or completeness of the information on this page. According to our Terms of Use, Dog Speed Animal Rescue & Transport Society is obligated to provide honest and complete information. If there is any mistake on this page, please inform Dog Speed Animal Rescue & Transport Society and report to us.