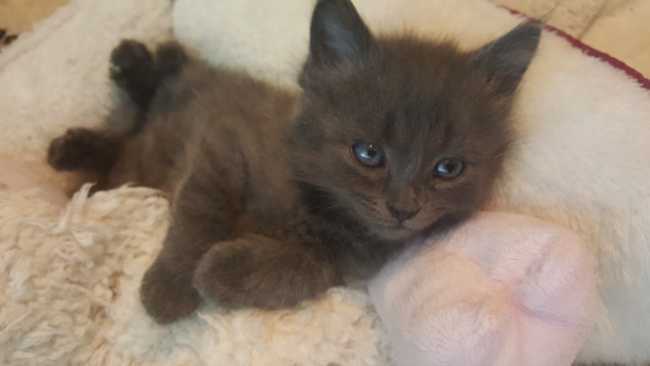 Pet Details

| | |
| --- | --- |
| Type: | Cat |
| Breed: | Mongrel |
| Gender: | Male |
| Age: | Young |
| Size: | Medium |
| Colour: | Grey |
| Personality: | Friendly |
| Kids Friendly: | Yes |
| House Trained: | Yes |
| Declawed: | No |
| Special Needs: | No |
Beau's Story
Beau was found as a stray with his sister in Quebec and brought to a pound that relies on rescues to save them. He made his way with his sister to Dog Speed Animal Rescue in Ontario.

Beau is a handsome grey male - with the way his fur is growing we guess he will be a medium-haired cat when fully grown.

He is happiest in someone's arms and will cry until someone picks him up and holds him.

Beau can often be found playing and running around with his feline buddies when not snuggled on a humans lap. He gets along great with dogs and cats, but Beau prefers the company of humans and would prefer someone who wouldn't be away from home for long hours during the day, and would love nothing more then to snuggle up beside you at night.
This pet's profile is submitted and maintained by Dog Speed Animal Rescue & Transport Society; Adoptico.com does not guarantee accuracy or completeness of the information on this page. According to our Terms of Use, Dog Speed Animal Rescue & Transport Society is obligated to provide honest and complete information. If there is any mistake on this page, please inform Dog Speed Animal Rescue & Transport Society and report to us.