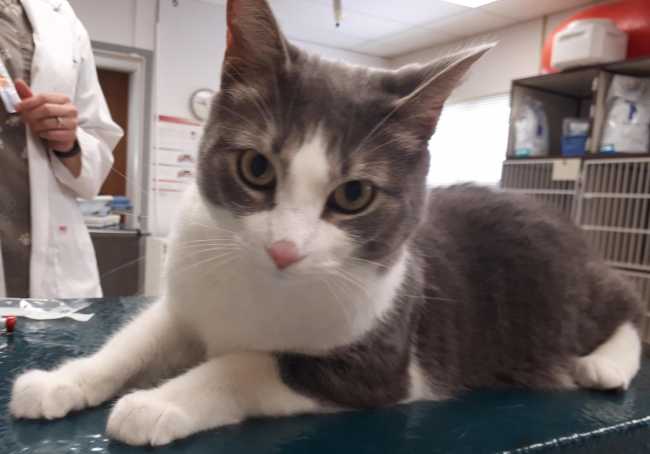 Pet Details

| | |
| --- | --- |
| Type: | Cat |
| Breed: | Domestic Medium-Hair |
| Gender: | Male |
| Age: | Adult |
| Size: | Medium |
| Colour: | Tabby |
| Personality: | Friendly |
| Kids Friendly: | No |
| House Trained: | Yes |
| Declawed: | Yes |
| Special Needs: | Yes |
Merlin's Story
Merlin is a 5 year old 4-paw declawed handsome grey with white tabby.

He is good with cats, small calm dogs and adults (no children). He would love a home with another cat buddy to cuddle and sleep with.

Merlin craves attention and to be pet. He would love someone who will spend time having fun play sessions with him.

Merlin has a very low grade heart murmur, a 1-2 out of 6. It is causing no issue at this time and may never cause any problems, but only time with tell.

Merlin is receiving cartrophen injections every 3 months for life to help prevent/alleviate arthritis in his legs/paws due to his 4-paw declawing. This injection can range from $30-$50/injection depending on the vet you use. This will help prolong his life and give him a pain-free life as he ages.

He is neutered, 4-paw declawed, vaccinated, dewormed twice, flea-treated and microchipped. If interested in adopting him, please contact Amber at amber.dogspeed@gmail.com

Merlin has Special Needs!
Merlin gets cartrophen injections every 3 months for life to help prevent/alleviate arthritis in his legs/paws due to his 4-paw declawing. This injection can range from $30-$50/injection depending on the vet you use. This will help prolong his life and give him a pain-free life as he ages.

He also has a very low grade heart murmur, a 1-2 out of 6. It is causing no issue at this time and may never cause any problems.
This pet's profile is submitted and maintained by Dog Speed Animal Rescue & Transport Society; Adoptico.com does not guarantee accuracy or completeness of the information on this page. According to our Terms of Use, Dog Speed Animal Rescue & Transport Society is obligated to provide honest and complete information. If there is any mistake on this page, please inform Dog Speed Animal Rescue & Transport Society and report to us.