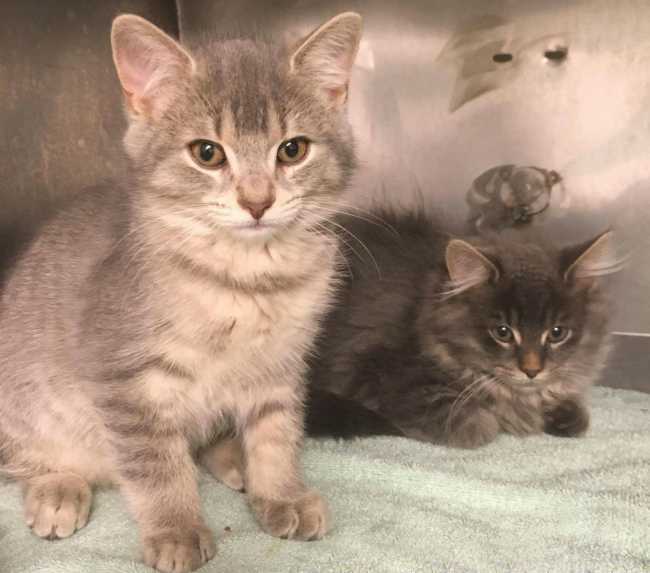 Pet Details

| | |
| --- | --- |
| Type: | Cat |
| Breed: | American Shorthair |
| Gender: | Male |
| Age: | Young |
| Size: | Small |
| Colour: | Grey |
| Personality: | Friendly |
| Kids Friendly: | Yes |
| House Trained: | Yes |
| Declawed: | No |
| Special Needs: | No |
Hennessy's Story
HENNESSY (temporarily on hold)

Hennessy and Crawford were found as strays and brought to a pound in Quebec.  They were rescued by Dog Speed and transported to their second chance at life in Ontario.

Hennessy (on the right in the picture) is a handsome grey longhaired tabby kitten. He is about 4 months of age. He's a really friendly guy, loves human attention and purrs up a storm the second he is petted. He is a super adorable boy. He is a little more shy then his brother. He gets along with cats and dogs and would be best in any kind of home setting.
​
Hennessy has been vaccinated, dewormed, microchipped and will be neutered once he is of weight.

If interested in Hennessy, please contact Amber at amber.dogspeed@gmail.com

Note:  we do not adopt out any animals that are to become "gifts" unless the animal is going to be a gift to a spouse/children within the same household. 
This pet's profile is submitted and maintained by Dog Speed Animal Rescue & Transport Society; Adoptico.com does not guarantee accuracy or completeness of the information on this page. According to our Terms of Use, Dog Speed Animal Rescue & Transport Society is obligated to provide honest and complete information. If there is any mistake on this page, please inform Dog Speed Animal Rescue & Transport Society and report to us.