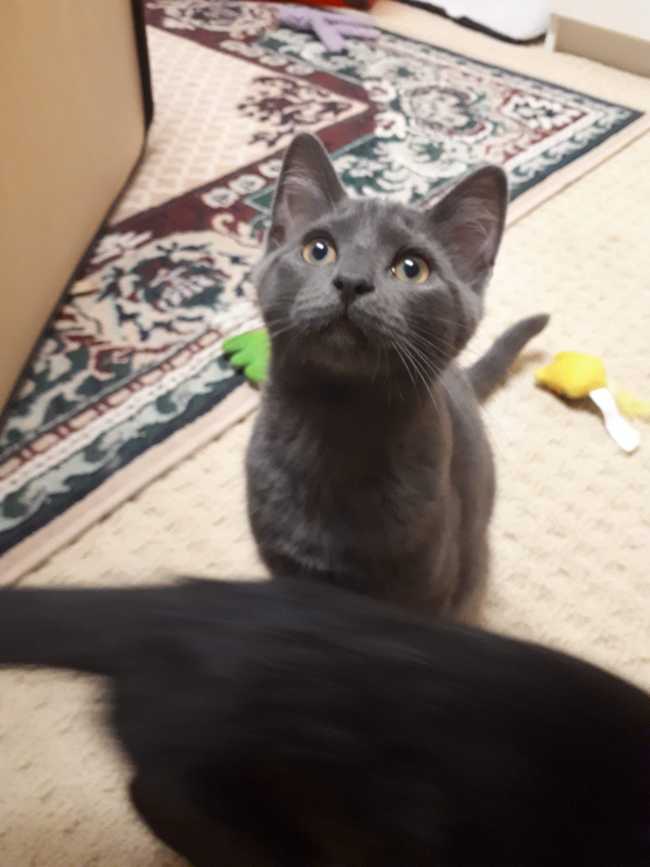 Pet Details

| | |
| --- | --- |
| Type: | Cat |
| Breed: | Domestic Short-Hair |
| Gender: | Female |
| Age: | Young |
| Size: | Medium |
| Colour: | Grey |
| Personality: | Friendly |
| Kids Friendly: | No |
| House Trained: | No |
| Declawed: | No |
| Special Needs: | No |
Vera's Story
Meet Vera, the bravest of them all!

Vera arrived as a feral 8 wk old kitten - she spit, she hissed, she growled, she attacked, she did whatever she had to to make sure you didn't come near her. In 2 months you'd never guess she started out that way - she now LOVES human attention, she seeks you out looking for loving, loves to cuddle, loves to be pet and can't pass up a good chin rub! She can be a little wary of strangers at first but after a couple minutes of hanging out and giving her time she checks you out.

Vera is good with small dogs and cats. She is best suited to a home with one of her siblings or to a home with a current playful cat.

Vera is playful, cuddly, loves to hangout in a human lap, always with her siblings, and very adventurous.

She is ready to go beginning of August. Are you her forever home?
This pet's profile is submitted and maintained by Dog Speed Animal Rescue & Transport Society; Adoptico.com does not guarantee accuracy or completeness of the information on this page. According to our Terms of Use, Dog Speed Animal Rescue & Transport Society is obligated to provide honest and complete information. If there is any mistake on this page, please inform Dog Speed Animal Rescue & Transport Society and report to us.