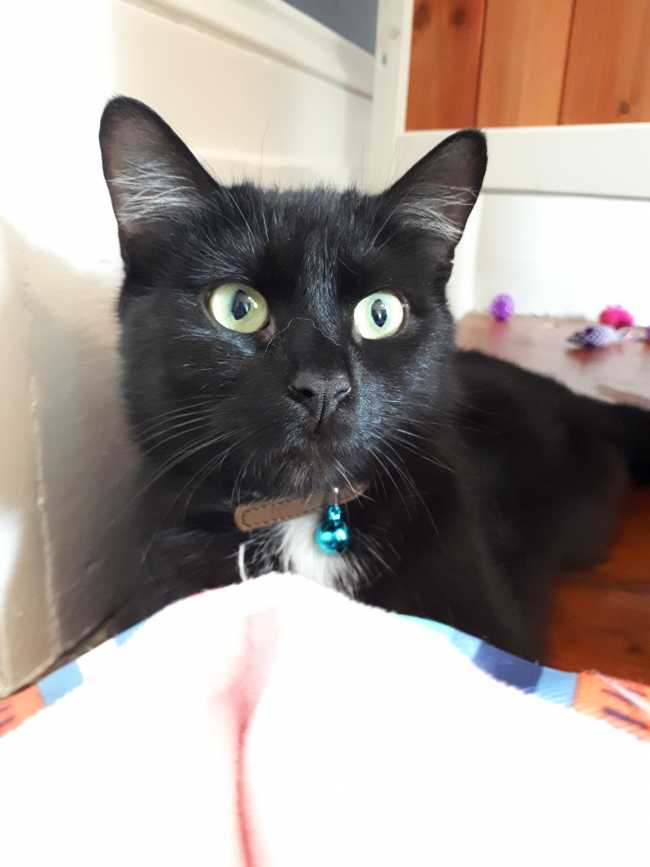 Pet Details

| | |
| --- | --- |
| Type: | Cat |
| Breed: | Domestic Short-Hair |
| Gender: | Female |
| Age: | Adult |
| Size: | Small |
| Colour: | Black |
| Personality: | Shy |
| Kids Friendly: | No |
| House Trained: | Yes |
| Declawed: | No |
| Special Needs: | No |
Sable's Story
Sable is desperate to find a home of her own. She has been in our care for over 6 months now with ZERO interest. It's coming to a point the foster's cat is beating her up and fighting her all the time, she's having to be secluded to her own room away from everything.

Sable arrived to us in early March, heavily pregnant, from a high-intake shelter in Quebec after being found as a stray. The way she acted she most likely never lived in a home with people before. She raised her 5 little panthers into healthy beautiful kittens who all ventured off into their own homes. Sable is 2 years old, spayed, fully vaccinated, dewormed, flea treated, microchipped and comes with a 30-day trial of pet insurance.

Sable gets along with dogs and cats, and is best suited to a quieter home with no children under 15. Sable is very nervous kitty, she needs lots of patience, time, and tones of love to learn to get comfortable with you. She is super comfortable with her foster whom she gives kisses, rolls over, and comes for attention. She enjoys being with people but loud noises or sudden movements still send her flying.

Sable has a special adoption fee, please PM or email Amber at amber.dogspeed@gmail.com for more information or to adopt!

This pet's profile is submitted and maintained by Dog Speed Animal Rescue & Transport Society; Adoptico.com does not guarantee accuracy or completeness of the information on this page. According to our Terms of Use, Dog Speed Animal Rescue & Transport Society is obligated to provide honest and complete information. If there is any mistake on this page, please inform Dog Speed Animal Rescue & Transport Society and report to us.