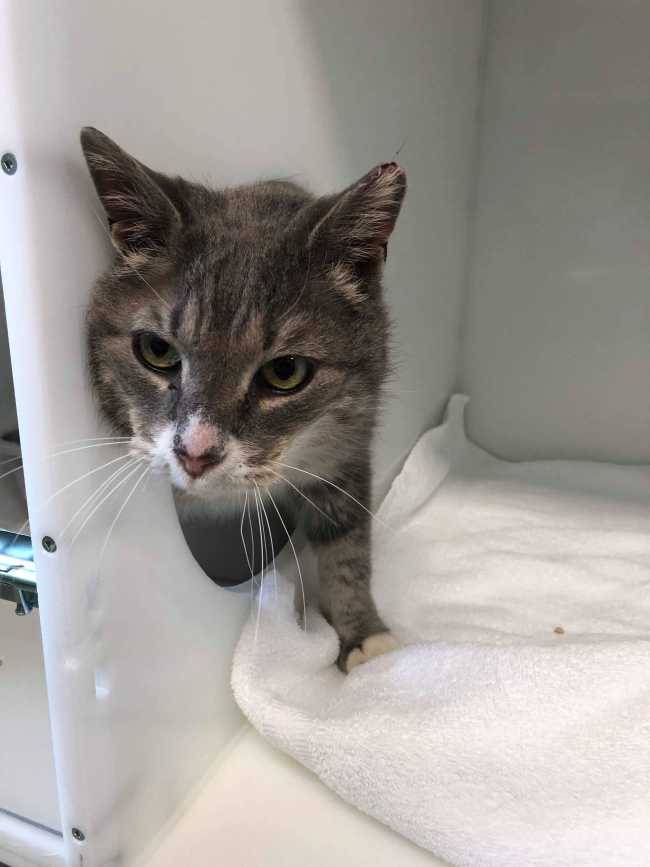 Pet Details

| | |
| --- | --- |
| Type: | Cat |
| Breed: | Domestic Medium-Hair |
| Gender: | Female |
| Age: | Senior |
| Size: | Medium |
| Colour: | Tabby |
| Personality: | Friendly |
| Kids Friendly: | No |
| House Trained: | Yes |
| Declawed: | No |
| Special Needs: | Yes |
Betty's Story
URGENT!!! We need to pull her asap, before its too late for her. IN SEARCH OF A FOREVER FOSTER HOME (we cover her medical)
​
Betty is a senior grey and white tabby, approximately 12 yrs old. She has lived outside and had a rough go in life. She needs to be an inside cat for the rest of her life. 
​
Shelter staff say she is a sweet girl who loves affection and attention.  
​
Betty has not been spayed yet and has mammary nodules. We are discussing options with the vet. She will be spayed and the nodules removed and biopsied. If they are benign she should live a normal life; if they are cancerous, we will make sure she is comfortable and pain-free for whatever time she has left.

Betty has cloudy eyes but her vision is still good.  She also has a damaged ear, probably from frostbite.  She has a bald spot on her back right now where a large section of matted hair was removed but her hair will grow back. 
​
You provide a forever foster home to her until her time on earth is no longer humane.  We provide all on-going medical care, including euthanasia costs when her time comes. Thus the fospice home should be within a reasonable drive to Georgetown ON, as the vet Dog Speed will be using for Betty is located there.  We rely on the foster home to get Betty to her vet appointments.

Please help us find her loving, fospice family to live out the best remaining years of her life with - she deserves that after so many years of hardship!
​
If interested in becoming Betty's fospice home, contact Amber at amber.dogspeed@gmail.com
Betty has Special Needs!
This post is for a fospice home. Betty has not been spayed yet and has mammary nodules. We're discussing options with the vet. She will be spayed and the nodules removed & biopsied. If benign, she should live a normal life; if cancerous, we will make sure she is comfortable and pain-free for whatever time she has left - all medical costs incl eventual euthanasia when its time will be covered by us

Betty has cloudy eyes but her vision is still good, and a damaged ear probably from frostbite.  
This pet's profile is submitted and maintained by Dog Speed Animal Rescue & Transport Society; Adoptico.com does not guarantee accuracy or completeness of the information on this page. According to our Terms of Use, Dog Speed Animal Rescue & Transport Society is obligated to provide honest and complete information. If there is any mistake on this page, please inform Dog Speed Animal Rescue & Transport Society and report to us.