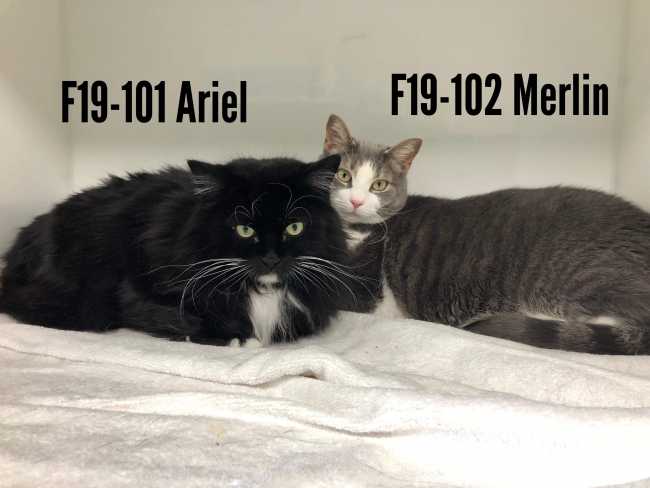 Pet Details

| | |
| --- | --- |
| Type: | Cat |
| Breed: | Domestic Medium-Hair |
| Gender: | Female |
| Age: | Adult |
| Size: | Medium |
| Colour: | Other |
| Personality: | Friendly |
| Kids Friendly: | Yes |
| House Trained: | Yes |
| Declawed: | Yes |
| Special Needs: | No |
Ariel's Story
Meet Ariel and Merlin!

Ariel is a spayed 4-paw declawed 9 year old beautiful longhaired tuxedo.

They are said to be a bonded pair but being in our foster home will truly show if they are. They were surrendered for pooping on the couch when the owners brought a new baby home :( 
Both are super friendly and affectionate, get along with people and cats, and LOVE catnip!
​
Stay tuned for an update once they arrive and have spent enough time at our foster home for us to get to know them better.  

Meantime, if you are really interested in them so far, you can contact Amber at amber.dogspeed@gmail.com to let her know you want to be considered when its time.  
This pet's profile is submitted and maintained by Dog Speed Animal Rescue & Transport Society; Adoptico.com does not guarantee accuracy or completeness of the information on this page. According to our Terms of Use, Dog Speed Animal Rescue & Transport Society is obligated to provide honest and complete information. If there is any mistake on this page, please inform Dog Speed Animal Rescue & Transport Society and report to us.