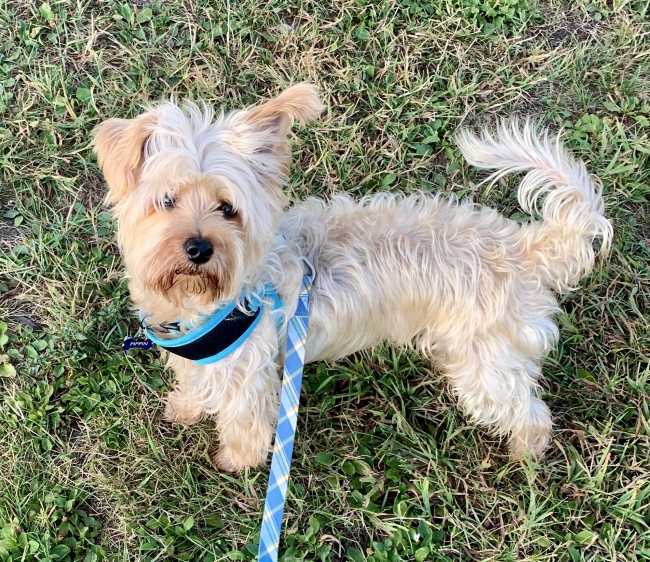 Pet Details

| | |
| --- | --- |
| Type: | Dog |
| Breed: | Yorkshire Terrier |
| Gender: | Male |
| Age: | Senior |
| Size: | Small |
| Colour: | Beige |
| Personality: | Friendly & Active |
| Kids Friendly: | No |
| House Trained: | Yes |
| Declawed: | No |
| Special Needs: | No |
Pippin's Story
Pippin is an 8 year old Yorkshire terrier mix but he certainly doesn't act his age!

He loves to run around and play so would be best suited in a home with a fenced-in yard where he can burn off some energy.

He is fully house-trained and gets along fine with small dogs, but does not like larger dogs, especially when he's on a leash.

He is not suited for a home with cats nor an apartment setting. He will need a bit of work on leash walking, as he pulls and will bark at other dogs.

He has lived with young children in the past however we are asking for a forever home with either no children or older children, unless they are extremely dog savvy.

Pippin is ready and waiting to join his new family and make their homes and hearts complete.
This pet's profile is submitted and maintained by Dog Speed Animal Rescue & Transport Society; Adoptico.com does not guarantee accuracy or completeness of the information on this page. According to our Terms of Use, Dog Speed Animal Rescue & Transport Society is obligated to provide honest and complete information. If there is any mistake on this page, please inform Dog Speed Animal Rescue & Transport Society and report to us.