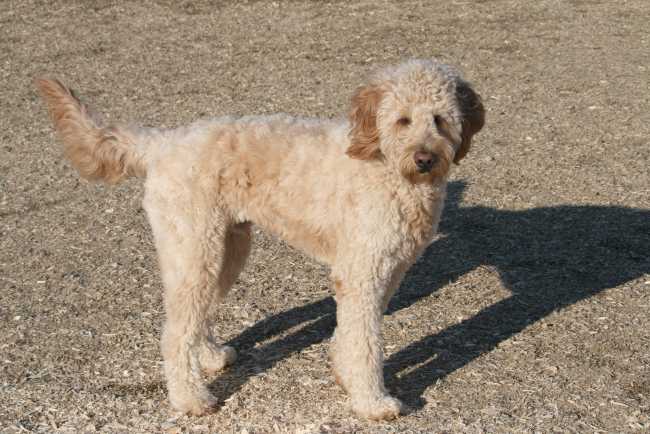 Pet Details

| | |
| --- | --- |
| Type: | Dog |
| Breed (mixed): | Golden Retriever / Poodle |
| Gender: | Male |
| Age: | Adult |
| Size: | Large |
| Colour: | Beige |
| Personality: | Other |
| Kids Friendly: | No |
| House Trained: | Yes |
| Declawed: | No |
| Special Needs: | Yes |
Charlie's Story
We are only accepting applications from Southern Ontario due to Charlie's issues - he will need a slow integration into his new home from his foster home. More info available upon request.

Charlie is a handsome 3 year old neutered male golden retriever/poodle mix, aka "Golden-Doodle".  He is an aloof boy who does not particularly like to be petted, and definitely not "smothered with love".  He'll lay near his human but is not at all a "touchy-feely" dog. 

We are seeking an experienced dog handler for Charlie. Although Charlie is very smart, he is easily stressed over new things and new people and does not react well in these types of situations. He is sensitive to motion and sound so is often startled by unexpected touch or noises.  He gets anxious travelling in a vehicle. 

He enjoys doggie day care and gets along well with most other dogs although he can be a bit of a bully if allowed. His handler will need to redirect his behaviour when necessary.

Although he is fine with his food, he is a resource guarder when it comes to high value items so his handler will need to work on this with him.

Charlie would do well in a calm environment without children where daily life is pretty routine.  He would be okay with another dog(s) if that dog is not overly submissive. If he did go to a home with a canine buddy, dinner time would need to be appropriately controlled.

Charlie is house trained, leash trained, has good manners and knows basic commands.  

NOTE:  We often receive numerous inquiries on our animals, therefore, only applicants who have submitted our application form will be considered.  We will respond to your email with a copy of our application to complete.

We do not adopt out any animals that are to become "gifts" (unless the animal is going to be gifted to that adopter's children/spouse within the same home) and this is reflected in our legally-binding adoption contract.  Pets given as gifts to a different household often become unwanted or neglected pets.

If you are interested in Charlie, contact June at june.dogspeed@gmail.com
Charlie has Special Needs!
ON HOLD - ADOPTION PENDING!

Charlie tends to be very uncomfortable with new people & things. He is very reactive when pushed. Once he knows you, he is more accepting.

The ideal home for Charlie would be a single laid back person who won't invade Charlie's space or try to smother him with physical attention. Over time, we think Charlie will improve in such a routine consistent environment.
This pet's profile is submitted and maintained by Dog Speed Animal Rescue & Transport Society; Adoptico.com does not guarantee accuracy or completeness of the information on this page. According to our Terms of Use, Dog Speed Animal Rescue & Transport Society is obligated to provide honest and complete information. If there is any mistake on this page, please inform Dog Speed Animal Rescue & Transport Society and report to us.