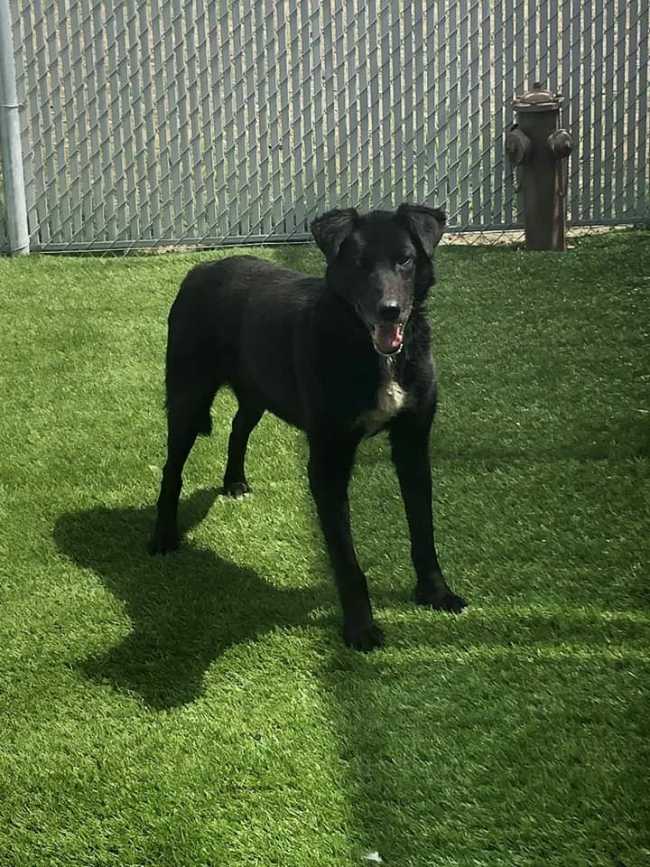 Pet Details

| | |
| --- | --- |
| Type: | Dog |
| Breed (mixed): | German Shepherd / Labrador Retriever |
| Gender: | Male |
| Age: | Adult |
| Size: | Large |
| Colour: | Black |
| Personality: | Other |
| Kids Friendly: | No |
| House Trained: | No |
| Declawed: | No |
| Special Needs: | Yes |
Potter's Story
​POTTER IS CURRENTLY ON HOLD
​
Potter is +/- 8 year old Shepherd / Lab mix.  He is not fixed yet but is utd on his shots.  He has lived his entire life outdoors, full time.

Because his life was alone outside, he doesn't know any commands, pulls on leash, and is not house-trained but his foster is working on those with him.  

He is a moderate energy level, was calm in his kennel, shy and insecure with people, not aggressive, just scared.  He's ok with physical manipulations if he knows the person.  He doesn't take treats from hand, will take if on the ground.  He's independent with other dogs, will go sniff the other dogs and continue on his way.  He was too stressed in the kennel to play.  He freezes if you grab him by surprise.  He also has some medical issues so in light of his all this we are seeking a home without children.  

Potter was surrendered by his owner because his medical issues were too expensive for them.

He has a grade 1-2 out of 6 heart murmur, 3 teeth in front are dead and need extraction, a small mass on his thorax and another small mass close to his anus.  Ulcerated mass 4cm in diameter by -cm thick on his left front wrist.

Dog Speed will be treating all his medical conditions after which, when he has recuperated and has learned some house-training, etc., will become available for adoption.

Stay tuned for more on Potter.  If you are interested in him, or would simply like to make a donation to assist in his upcoming expensive vet care, you are welcome to contact Traci at traci.dawson@gmail.com 
Potter has Special Needs!
Potter has a grade 1-2 out of 6 heart murmur, 3 teeth in front are dead and need extraction, a small mass on his thorax and another small mass close to his anus.  Ulcerated mass 4cm in diameter by -cm thick on his left front wrist.

Dog Speed will be treating all his medical conditions after which, when he has recuperated and has learned some house-training, etc., will become available for adoption.
This pet's profile is submitted and maintained by Dog Speed Animal Rescue & Transport Society; Adoptico.com does not guarantee accuracy or completeness of the information on this page. According to our Terms of Use, Dog Speed Animal Rescue & Transport Society is obligated to provide honest and complete information. If there is any mistake on this page, please inform Dog Speed Animal Rescue & Transport Society and report to us.