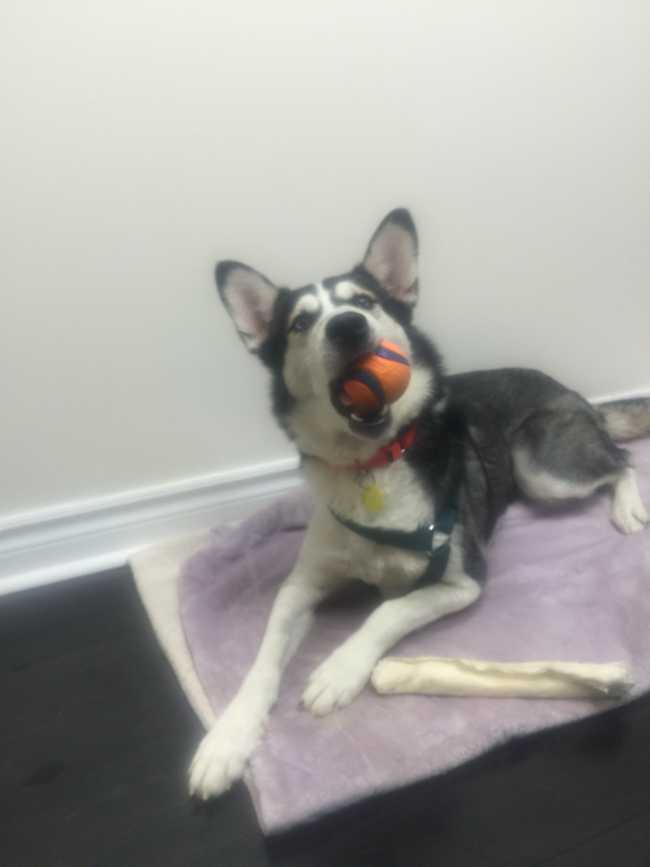 Pet Details

| | |
| --- | --- |
| Type: | Dog |
| Breed: | Siberian Husky |
| Gender: | Female |
| Age: | Young |
| Size: | Small |
| Colour: | Black |
| Personality: | Friendly |
| Kids Friendly: | No |
| House Trained: | Yes |
| Declawed: | No |
| Special Needs: | No |
Olivia's Story
This little girl is a petite beauty, full of love. Olivia is a blue eyed treasure who loves getting belly rubs and will try and sit on your lap if you let her. She LOVES her ball and is learning the game of fetch. She is so excited about life and wants nothing more than to have a playmate.

She is in tuned with her person and respects commands. She is excellent at feeding time, waiting her turn patiently.

Olivia's ideal home would be with another male dog and with a family that is very active. She is spunky when she is outside but is not destructive at all when inside.

We don't know enough about her background so families with older children will be considered.

She is up to date on her shots, is healthy and spayed.
The family that adds Olivia to their home will be very lucky!
This pet's profile is submitted and maintained by Northern Breed Rescue; Adoptico.com does not guarantee accuracy or completeness of the information on this page. According to our Terms of Use, Northern Breed Rescue is obligated to provide honest and complete information. If there is any mistake on this page, please inform Northern Breed Rescue and report to us.