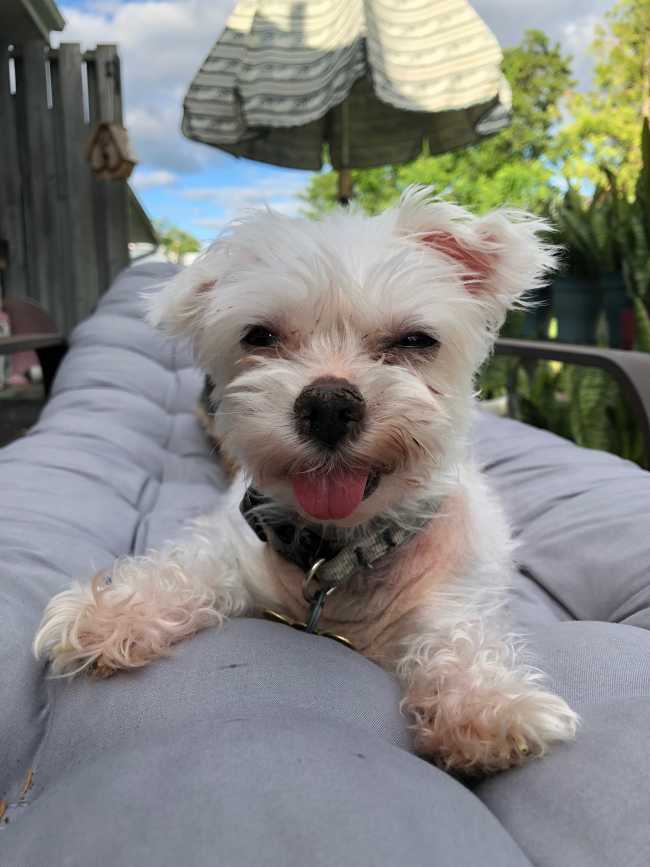 Pet Details

| | |
| --- | --- |
| Type: | Dog |
| Breed: | Maltese |
| Gender: | Female |
| Age: | Adult |
| Size: | Small |
| Colour: | White |
| Personality: | Friendly |
| Kids Friendly: | No |
| House Trained: | No |
| Declawed: | No |
| Special Needs: | Yes |
Sabine's Story
Sabine is in her foster-to-adopt home, her status will not be 'adopted' until all pending medical vetting is complete, at which time the foster home will adopt her.
Sabine is now ready for a foster-to-adopt home! She still has some additional vetting to be done, which Dog Speed will be doing before her adoption can be finalized. Thus we're seeking a foster-to-adopt home within reasonable driving distance of Sabine's vet to accommodate her upcoming spay and dental appointments.

Sabine is a 6 year old Maltese, approximately 7 lbs and an absolute doll! She will give you kisses and loves to be in your lap or laying beside you.

A breeder gave Sabine to a woman who then contacted Dog Speed to rehome her due to house-training issues. Turns out she has some health issues that needed to be addressed.

It was confirmed through medical tests that Sabine has Cushings disease. She takes one pill a day to control this and will need to remain on meds for the rest of her life. During a recent follow up vet appointment, more tests were done that now show Sabine also has diabetes. We are working on adjusting her insulin to the best level for her. Once both the Cushings and diabetes are controlled, we can proceed with her spay and dental. When these surgeries are done, her adoption will be finalized to her forever home.

Sabine's vision seems to be compromised but she gets around fine if she's familiar with her surroundings and things don't get moved around. She's great about doing her business outside or on pee pads.

The ideal home for Sabine is with someone who is home most of the day, as she craves human company. She tolerates small dogs that are around her size but is nervous around larger dogs. She has not been exposed to cats. No small children please, due to her size and limited vision. Please note that Sabine has previously been de-barked but will still make the motions to bark.

If interested in Sabine, contact Brenda at brenda.dogspeed@gmail.com with any questions.
Sabine has Special Needs!
Through vet testing, it's confirmed that Sabine is diabetic and has Cushing's disease so will need to be on medication for the rest of her life. It's just one pill a day and she loves all kinds of food so there's no problem with her taking medicine. She will need occasional blood tests to confirm the medication is of an accurate dose to control the Cushing's. She also requires insulin daily.
This pet's profile is submitted and maintained by Dog Speed Animal Rescue & Transport Society; Adoptico.com does not guarantee accuracy or completeness of the information on this page. According to our Terms of Use, Dog Speed Animal Rescue & Transport Society is obligated to provide honest and complete information. If there is any mistake on this page, please inform Dog Speed Animal Rescue & Transport Society and report to us.