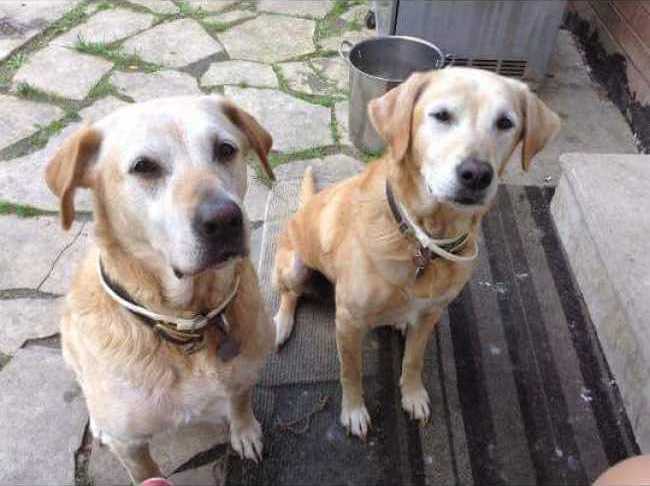 Pet Details

| | |
| --- | --- |
| Type: | Dog |
| Breed: | Labrador Retriever |
| Gender: | Female |
| Age: | Senior |
| Size: | Medium |
| Colour: | Other |
| Personality: | Friendly |
| Kids Friendly: | Yes |
| House Trained: | Yes |
| Declawed: | No |
| Special Needs: | No |
Kay & Sadie's Story
KAY & SADIE
These super friendly girls are 9 year old female yellow labs whose family grew too busy to care for them and were going to euthanize them if no one took them. Kay & Sadie will be coming into Dog Speed on October 20th.  
​
We are seeking a temporary foster home for them, preferably together, until we can find a forever home for them. 

They are housetrained, know basic commands, are good listeners  and are great with children, cats and dogs. They act like young dogs, not showing their age except for the whitened muzzles.   

Both girls are up to date on vaccinations but are not spayed. We will discuss spay options with our vet when they get their exam once they come into our rescue.   
​
NOTE:  We do not adopt any animals that are to become "gifts" unless the animal is going to be a gift to that adopter's children/spouse who live in the same home.  
This pet's profile is submitted and maintained by Dog Speed Animal Rescue & Transport Society; Adoptico.com does not guarantee accuracy or completeness of the information on this page. According to our Terms of Use, Dog Speed Animal Rescue & Transport Society is obligated to provide honest and complete information. If there is any mistake on this page, please inform Dog Speed Animal Rescue & Transport Society and report to us.