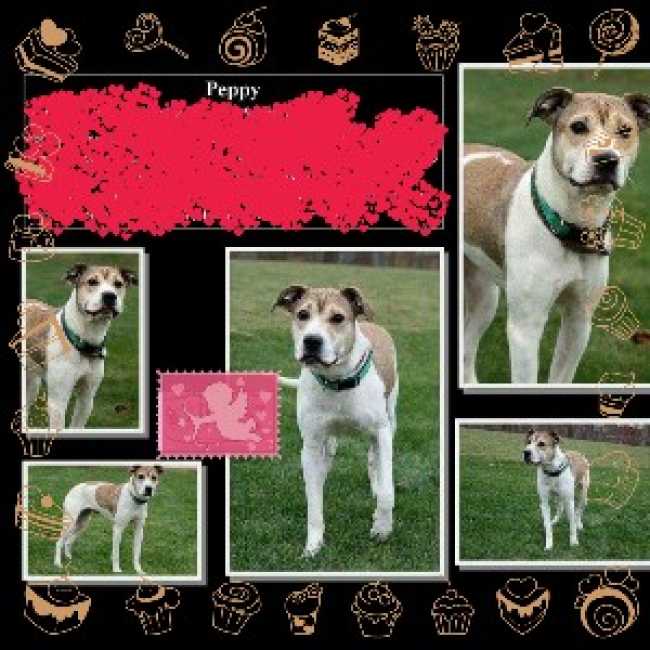 Pet Details

| | |
| --- | --- |
| Type: | Dog |
| Breed: | Chinese Shar-Pei |
| Gender: | Female |
| Age: | Young |
| Size: | Medium |
| Colour: | Brown & White |
| Personality: | Friendly & Active |
| Kids Friendly: | Yes |
| House Trained: | Yes |
| Declawed: | No |
| Special Needs: | No |
Peppy's Story
Oh boy. What a cutie pie Peppy is! This 8 month old darling is assumed to be a sharpei/beagle mix. She is still so much a puppy, full of energy and beans. She is 37 lbs and had gorgeous markings and soft short fur. Favorite pastime=playing with her doggie friends. She is good with both male and female dogs. Peppy is housebroken and foes great in her crate. She is a real lady, eating her food very nicely snd not gobbling it up quickly. Peppy requires further work on ther manners. Her biggest feat will be learning not to jump up on people. Currently she is too bouncy to bebin a home with small children.

Peppy learned the rules of the household very quickly. This shows her level of intelligence. She appears to have much more of the sharpei traits than beagle. She attaches herself very quickly to her humans. Sharpeis are very loyal and we believe she will bond just as quickly to her adoptive family and will be protective of them and their home. This is one kissy dog. She will run to greet every person she meets with kisses.

Peppy is crated at night and when the foster family is not home. She is spayed, up to date with vaccines. Including Bordetella. She is heartworm tested negative.

Peppy will require an active family. A family that does a lot of walking and hiking would be ideal. She will require leash training. A fully fenced yard is mandatory. Preference will be given to those applicants with another socialized dog.

If you wish to apply for Peppy, please click visit our website at www.barksandmeows for an online application.
This pet's profile is submitted and maintained by Barks and Meows Rescue; Adoptico.com does not guarantee accuracy or completeness of the information on this page. According to our Terms of Use, Barks and Meows Rescue is obligated to provide honest and complete information. If there is any mistake on this page, please inform Barks and Meows Rescue and report to us.