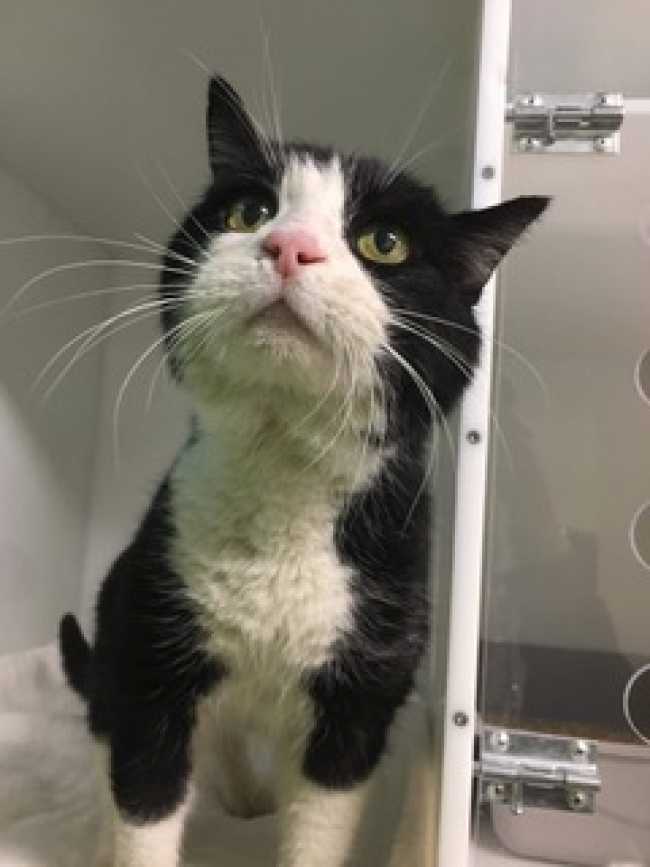 Pet Details

| | |
| --- | --- |
| Type: | Cat |
| Breed: | American Shorthair |
| Gender: | Male |
| Age: | Senior |
| Size: | Medium |
| Colour: | White & Black |
| Personality: | Friendly |
| Kids Friendly: | No |
| House Trained: | Yes |
| Declawed: | No |
| Special Needs: | Yes |
Waylon's Story
ADOPTIVE OR FOSPICE HOME NEEDED ASAP

Waylon has had a rough go in life and his time to have the best remaining years of his life start now! Waylon has been diagnosed with an enlarged irregular kidney and due to his age he is more likely to develop kidney disease way sooner due to this in the next year or few.

Our rescue prides ourselves on doing what is in the best interest of the animals in our care. With this we are looking for either an adoptive home that understands he will need medical intervention sooner or later and willing to provide this for him, or a fospice home. Fospice means a forever hospice foster until his time on earth is no longer humane. Location should be near Georgetown as that is where his vet is (we rely on you to get to the vet clinic for appointments). We supply all medical and when the time comes with kidney disease we will supply all the proper food, you supply the wet food now (unless we have the money to get some) and any other stuff he needs.

He is estimated to be 10-14yrs old, is neutered, and has a sweet, easy-going personality. He's good with cats but would prefer older calm cat(s) and would be better suited to a home with no dogs or calm low energy dogs.

Once his infected tooth is better he will be going in for a full dental paid for by us.

If you can help offer a home or fospice enviornment for this sweet old soul email Amber at amber.dogspeed@gmail.com
Waylon has Special Needs!
Waylon is diagnosed with an enlarged irregular kidney and currently has an infected tooth which is being treated. Once the tooth is better, he is going in for a full dental. All veterinary needs for Waylon will be covered by Dog Speed Rescue.

His age and kidney issue will mean he has only a year or so left so we're seeking a calm, loving hospice-type home that understands his time is limited and are able to handle his situation. See the Description/Pet's Story section for more details.
This pet's profile is submitted and maintained by Dog Speed Animal Rescue & Transport Society; Adoptico.com does not guarantee accuracy or completeness of the information on this page. According to our Terms of Use, Dog Speed Animal Rescue & Transport Society is obligated to provide honest and complete information. If there is any mistake on this page, please inform Dog Speed Animal Rescue & Transport Society and report to us.