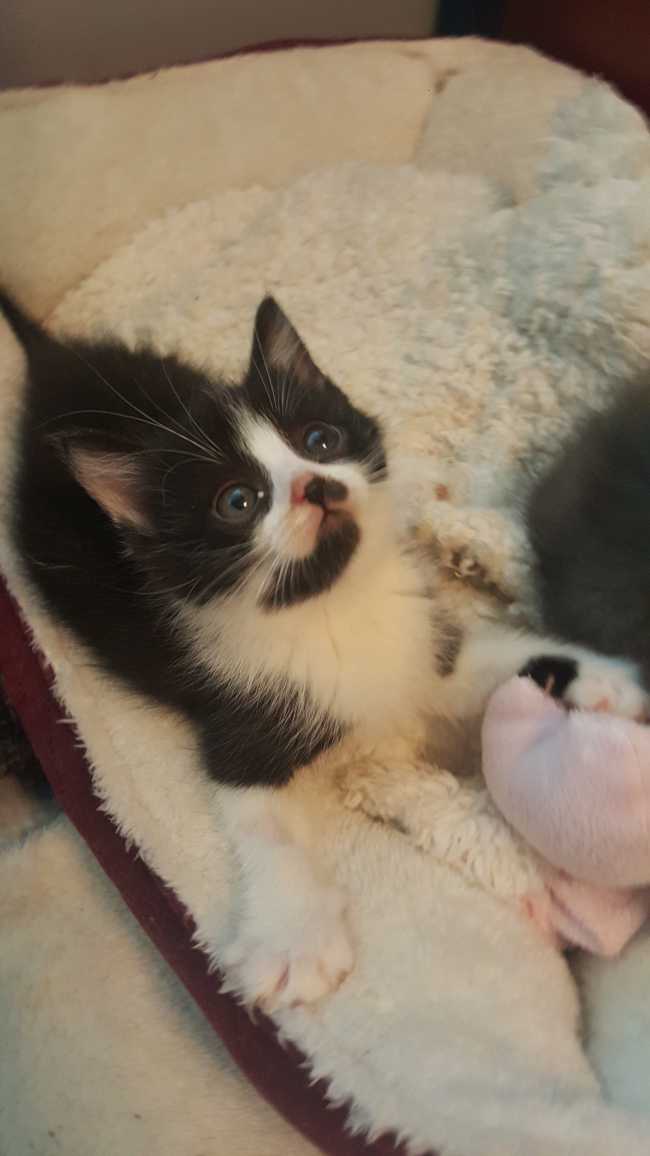 Pet Details

| | |
| --- | --- |
| Type: | Cat |
| Breed: | Mongrel |
| Gender: | Female |
| Age: | Young |
| Size: | Medium |
| Colour: | White & Black |
| Personality: | Friendly |
| Kids Friendly: | Yes |
| House Trained: | Yes |
| Declawed: | No |
| Special Needs: | Yes |
Aimee's Story
Aimee arrived with her brother at a pound in Quebec. They took the long journey to Ontario to begin their second chance at life with Dog Speed Animal Rescue.

Aimee is a beautiful petite little girl who wants nothing but to give you all the love she has to offer. She is special needs (see special needs section of her profile for details)

Aimee does everything like her feline buddies do; eats and drinks normally out of dishes, she makes her way to the litterbox and uses it without any accidents, and she rough houses and plays with the others. To Aimee she is like the other kitties, she does not realize that she has a disability that affects the way she moves. She is an excellent climber and most of the time she will grab onto things to help keep her steady. Everyday Aimee is learning how to get a hold on CH and make her life easier to get around.

Aimee will need a special home that will understand her special needs and always keep her safe from harm. She is more apt to get a cut or hurt her nails from falling into or holding onto things when falling over so she will need to be kept free from big things that could injure her more.

Aimee gets along great with cats and dogs and thrives on human attention. She is always crying at your feet to pick her up and give her some loving.
Aimee has Special Needs!
Aimee was diagnosed with Cerebellar Hypoplasia (also known as CH). CH is a disorder whereby the cerebellum of the brain is not fully developed. It effects the coordination and motor skills in animals - wobbly, wide stances, falling over, tumbling, tremors, etc. Animals with CH can live long healthy lives as any non-special needs animal would. There are 3 categories: mild, moderate (Aimee), and severe. More info on CH: www.chcat.org
This pet's profile is submitted and maintained by Dog Speed Animal Rescue & Transport Society; Adoptico.com does not guarantee accuracy or completeness of the information on this page. According to our Terms of Use, Dog Speed Animal Rescue & Transport Society is obligated to provide honest and complete information. If there is any mistake on this page, please inform Dog Speed Animal Rescue & Transport Society and report to us.