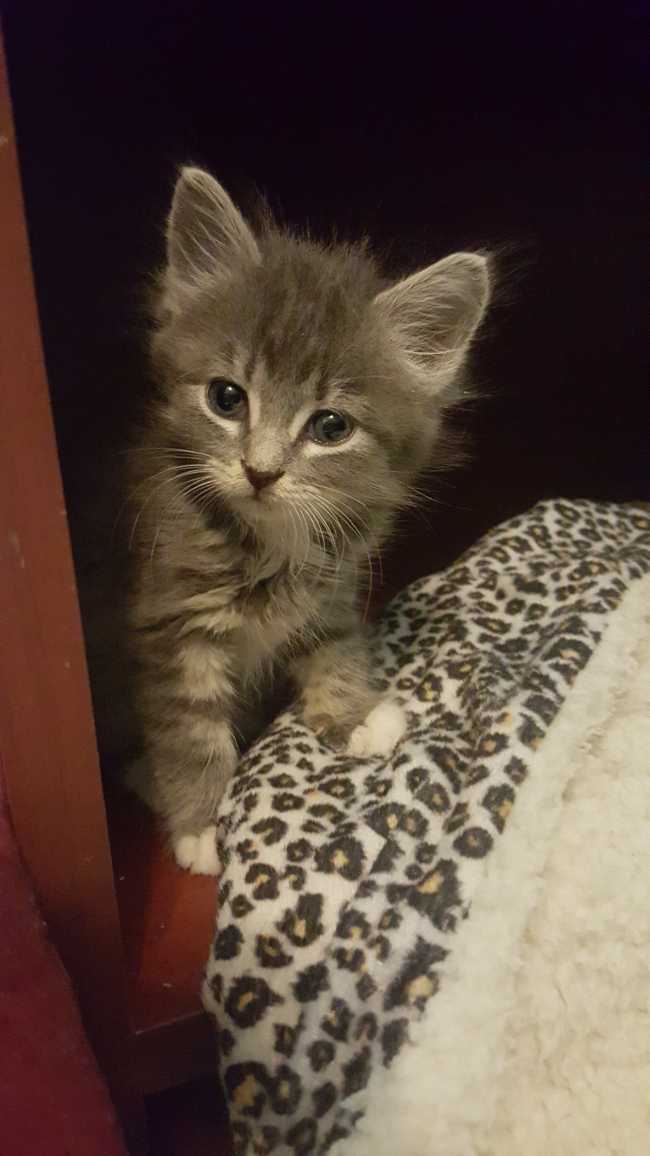 Pet Details

| | |
| --- | --- |
| Type: | Cat |
| Breed: | Mongrel |
| Gender: | Female |
| Age: | Young |
| Size: | Medium |
| Colour: | Grey |
| Personality: | Friendly |
| Kids Friendly: | Yes |
| House Trained: | Yes |
| Declawed: | No |
| Special Needs: | No |
Amour's Story
Amour is a beautiful grey tabby with white boots on her feet. She arrived at a pound in Quebec with her brother with no mother in sight and was rescued by an Ontario rescue.

Amour has fur that looks like she will be a medium-haired cat once fully grown.

Amour is a very quiet and laid back girl. She prefers hanging out in a cat bed and watching her buddies go crazy. Amour gets along great with cats and dogs and would prefer a quieter household where she can lounge around all day. Amour does enjoy playing with her felines friends but prefers playing by herself - but she always searches for a feline friend to cuddle up to and sleep with. Amour has a lot of love to share!

Note: we do not adopt our animals if they are to be a gift outside of the home.

This pet's profile is submitted and maintained by Dog Speed Animal Rescue & Transport Society; Adoptico.com does not guarantee accuracy or completeness of the information on this page. According to our Terms of Use, Dog Speed Animal Rescue & Transport Society is obligated to provide honest and complete information. If there is any mistake on this page, please inform Dog Speed Animal Rescue & Transport Society and report to us.