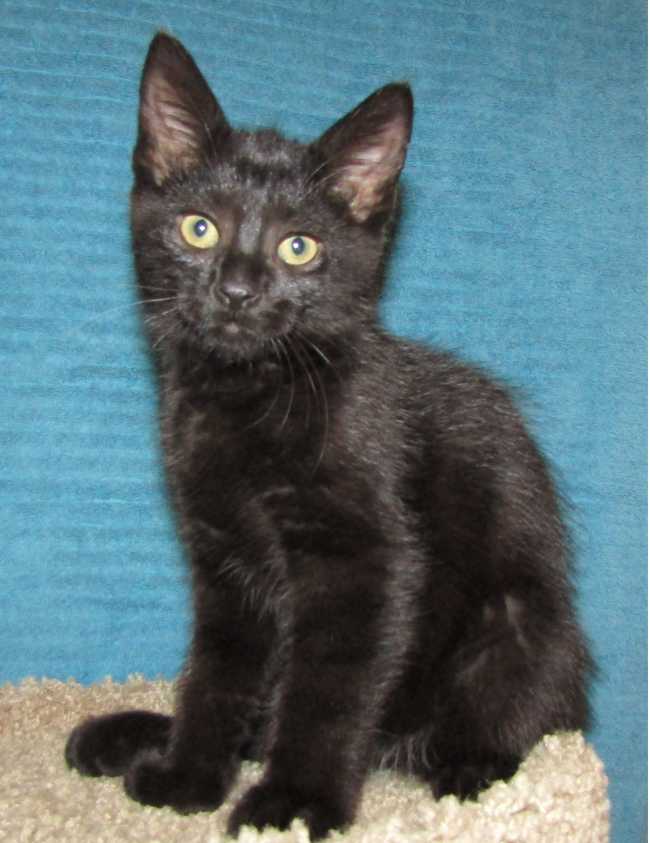 Pet Details

| | |
| --- | --- |
| Type: | Cat |
| Breed: | American Shorthair |
| Gender: | Female |
| Age: | Young |
| Size: | Small |
| Colour: | Black |
| Personality: | Friendly |
| Kids Friendly: | Yes |
| House Trained: | Yes |
| Declawed: | No |
| Special Needs: | No |
Huxli's Story
Have you been looking for the perfect couch potato cat friend for a long time with no luck? Look no further we have the perfect match for you!

Meet Huxli, a domestic medium hair black tabby kitten with extra toes (polydactyl)! She found herself as a stray with her siblings and ended up in a high-kill shelter in Quebec. Lucky for her our rescue pulled them and they made their way to us in search of new forever homes that would never let them end up in the same situation. 

Upon first arriving, she was nervous, shy, and wasn't too interested in humans. Within two weeks of being in foster, she has become such a loving, bondable feline. She is the type of kitten to want to hang out on your lap doing whatever you're doing with the occasional play time here and there. She will search out a human lap over playing with her siblings any chance she gets. She does like to play as she is still a kitten with lots of energy but a human lap can never be passed up!

She gets along GREAT with cats and dogs. She has had immense amounts of socialization and handling and is ready to find that perfect person or family to spend the rest of her life with. 

She is spayed, 2 rounds of vaccinations, microchipped, dewormed twice and on Revolution. 

Are you Huxli's perfect forever home? If so, email Amber at amber.dogspeed@gmail.com if you are interested!
This pet's profile is submitted and maintained by Dog Speed Animal Rescue & Transport Society; Adoptico.com does not guarantee accuracy or completeness of the information on this page. According to our Terms of Use, Dog Speed Animal Rescue & Transport Society is obligated to provide honest and complete information. If there is any mistake on this page, please inform Dog Speed Animal Rescue & Transport Society and report to us.